Topic
Premodern Migratory Society

Using the example of a premodern urban society in Eastern Europe, this project studies the sociocultural consequences of long-term and diverse migratory processes. It aims at tracing and explaining the specifics that have shaped multi-ethnic and multi-confessional urban coexistence beyond national antagonisms.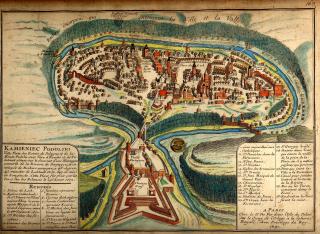 Migratory Society and Transcultural Entanglement in a Pluralistic Urban Space: Kamjaneć-Podilśkyj in the 16th/17th centuries
Kamjaneć in Podolia was a supra-regional trade centre and also an important border fortification in south-eastern Poland, directly neighbouring the Ottoman Empire, the principality of Moldavia and the Crimean Khanate. What made it exceptional was its tripartite self-administration with an Armenian, Polish and Ruthenian magistrate, a model example of the plural composition of migratory societies. Yet the city's location near the border and frequent armed conflicts in the region also necessitated the development of a pan-municipal consciousness to counter Tartar and Ottoman attacks.
This study directs its attention at the situativity of migratory localisations of the self and the other in a multi-polar field of actors and asks how and with whom affiliations were negotiated and boundaries were demarcated and implemented. It utilises an analytical access to trans- and intercultural processes of entanglement as the key to explaining processes of urban social formation.
The project is funded by the German Research Foundation (DFG).