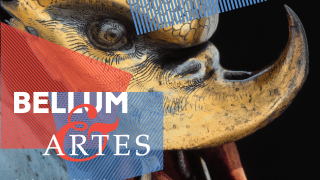 GWZO Exhibition Project
Bellum et Artes. War, Art and Diplomacy in Central Europe During the Thirty Years' War
Artistic depictions and the arts' development in wartime lie at the heart of this international cooperative and exhibition project (2020–2024), treating the migration of artists and artworks, systematic looting, art as spoils and the legal foundations.
This joint project of the GWZO, the Staatliche Kunstsammlungen Dresden [Dresden's State Art Collections] and the National Gallery of Prague is grounded in the GWZO's research project »Bellum, Artes et Commercia« (2015–2019). Those responsible for developing the conceptual framework for the exhibition series, with its varying thematic focuses, include i.a. Claudia Brink, Christian Forster, Gąsior, Susanne Jaeger, Theda Jürjens, Dirk Syndram and Marius Winzeler.
Other partners include the University of Danzig's Department of Art History, the University of Breslau's Department of Art History, the Complesso Museale Palazzo Ducale di Mantova, the Tyrolean State Museums of Innsbruck, the Museo Nacional del Prado in Madrid, the Statens historiska museer/Livrustkammaren Stockholm and – in association – Brussels' House of European History.
The exhibition is accompanied by an essay volume.
Exhibition Stations:
Dresden, Dresden Castle, 8 July to 4 October 2021
Followed by: the Tyrolean State Museums of Innsbruck, the University Museum of Breslau, the National Museum of Danzig, the National Gallery of Prague, the Swedish History Museums of Stockholm and Brussels' House of European History. 
Further events:
a round table in the Palazzo Ducale in Mantua, dedicating its dialogue to the museums and opening a conversation about new approaches to handling looted art from the Thirty Years' War 
an international conference in Madrid's national Museo del Prado, dedicated to a key work on the Thirty Years' War in Central Europe found on-site – Bartholomeus Strobel's »Feast of Herod and the Behading of St John the Baptist« (1635–1640)
Ausstellungen:
Dresden, Residenzschloss, 8. Juli bis zum 4. Oktober 2021
 
Weitere Veranstaltungen:
Ausstellungen (2023-2026) mit jeweils unterschiedlichen inhaltlichen Schwerpunkten in Prag, Innsbruck, Görlitz, Breslau, Danzig, Brüssel, Stockholm und Olmütz

ein Round Table im Palazzo Ducale in Mantua, der sich den Museen im Dialog widmet und ein Gespräch zu neuen Ansätzen im Umgang mit Beutekunst aus dem Dreißigjährigen Krieg eröffnet

eine internationale Konferenz im Nationalmuseum Prado in Madrid, die sich mit einem dort befindlichen Schlüsselwerk zum Dreißigjährigen Krieg in Mitteleuropa befasst, dem Gemälde von Bartholomäus Strobel »Das Bankett des Herodes und die Enthauptung Johannes des Täufers« (1635–1640)
Ein datenbankbasiertes und georeferenziertes Tool
Es wurde in Zusammenarbeit mit den SKD und der HTW Dresden am GWZO entwickelt und dient der gemeinsamen Erforschung, Dokumentation und interaktiven Visualisierung im Rahmen der Ausstellungen von Künstlermigration und Translozierung von Beutekunst in Europa.
Demovideo der datenbankbasierten, interaktiven Medienstation zur Erforschung und Visualisierung von Künstlermigration im Dreißigjährigen Krieg
Demovideo der datenbankbasierten interaktiven Medienstation zur Erforschung und Visualisierung der Translozierung von Kunstwerken im Dreißigjährigen Krieg