Topic
Settlements and Landscapes
This research examines transformation processes of settlements and landscapes between the Danube, Adriatic and Black Sea during the long Late Antiquity (4th–9th c.) on a micro and macro level.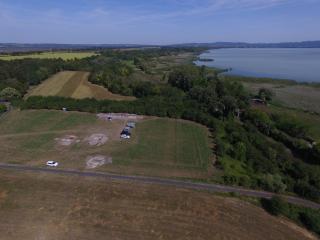 Late Antique settlement landscapes between continuity and change
For the past several years, the GWZO has researched the continuity and change of settlements and landscapes from the 4th to the 9th century. Examining the long Late Antiquity enables us to investigate the processes of spatial transformation diachronically from the Roman structures to the development of the kingdoms of the High Middle Ages between the Danube, Adriatic and Black Sea. This project's focus lies on the post-Roman use of individual sites (e.g. Keszthely-Fenékpuszta), the Christianisation and ruralisation of Roman cities and forts (e.g. Sirmium, Abritus) and the development of new forms of settlement in elevated areas (e.g. hilltop settlements). Field research (excavations, surveys) at different sites offer data on the micro regional level. Combined with landscape-archaeological research, this also facilitates a further step to integration of a macro regional level. In this way, the research reconstructs Late Antique settlements and landscapes, their respective infrastructure as well as concepts of land and resource use, and interprets them against the backdrop of social and political conditions.