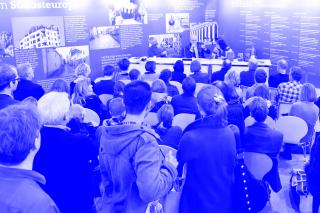 Knowledge
communicating
showing
digitally sharing
knowledge
finding
interconnecting
publishing
exhibiting
knowledge
archiving
searching for
knowledge
teaching
testing
sharing
knowledge
Knowledge Transfer
Carrying Knowledge about Eastern Europe into the World
The GWZO has been developing transfer forms to bring its research results to the public for many years: curated film series and exciting academic cinema, informative podcast radio on research topics and both large and small exhibitions, shown in museums, galleries and cultural institutions in Germany and the world. And of course books: specialist and non-fiction books, practical manuals, instructive standard works. The Institute also hosts events, conferences, workshops for various audiences as well as educational events, from university teaching to summer and winter schools for young researchers, as well as »science events« for the entire city. This rich variety of forms of knowledge transfer has gained the GWZO renown not just in its local Middle Germany, but far beyond Germany's borders, especially in our research region. 
Transfer und Publizieren
In der Direktionsbereich »Transfer und Publizieren« wird zur Weitergabe von Wissen gearbeitet. Die Transferaktivitäten des GWZO und die Vermittlung des über Jahre gewonnenen Tiefenwissens zum östlichen Europa in die Fachwelt und in die breite Öffentlichkeit werden hier gebündelt, koordiniert und durchgeführt.
Auf wissenschaftlicher Grundlage werden hier Forschungsergebnisse aus allen Abteilungen des GWZO in die Welt getragen. Dafür entstehen in den Tätigkeitsbereichen Transferformen aus den Bereichen der Öffentlichkeitsarbeit, Presse- und Medienarbeit sowie Sach-, Fach- und Handbücher.
Leitung: Prof. Dr. Maren Röger
Bibliothek und Digitales
Hier entsteht eine zukunftsfähige Leibniz-Fachbibliothek, die einen kontinuierlichen Bestandsaufbau betreibt und bereits jetzt die größte Spezialbibliothek zu Ost- und Mitteleuropa in den östlichen Bundesländern ist.
Das GWZO reagiert auf die Möglichkeiten und Herausforderungen der Digitalisierung, von Open Science sowie Forschungsdatenmanagement Dies betrifft insbesondere die Materialität und Medialität des generierten, verbreiteten und gespeicherten Wissens. Das GWZO arbeitet an einer Standardisierung und Vernetzung von Daten sowie virtuellen Erschließung arkaner Quellen, um ebenso kritisch wie produktiv die digitalen Möglichkeiten zu nutzen.
Transfer
Forms of Knowledge Transfer