Topic
Oral History of the Soviet Deportations from the Western Part of Ukraine, 1944-1955
The project deals with male and female testimonies about the deportations after the Soviet occupation of the western part of Ukraine in 1944. It analyzes and compares different experiences of being arrested, imprisoned, deported, and living in special settlements and/or Gulag prisons, as well as their lives after the immediate experience of violence.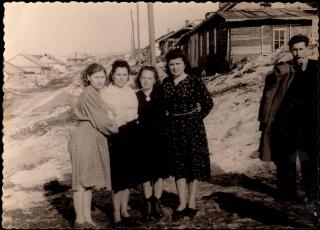 Gendered Perspectives on Living with the Deportation Experience: An Oral History Project about Soviet Deportations from the Western Part of Ukraine, 1944–1955
For the Soviet state, forced deportation was one of the many tools of terror used as a way of struggling with dissent. During the 1940s and 1950s, many people considered as »public enemies« were deported to special settlements (спецпоселение) or Gulags prisons. Only during 1944–1946 the Soviet authorities deported 36 609 people to remote areas of the Soviet Union. The deportees were sent to settlements in Siberia, Kazakhstan, and Central Asia, where they were supposed to live in barracks under the supervision of the NKVD.
Among the most important historical sources giving evidence of the history of Soviet deportations are the oral stories of the victims. In recent years, they have been increasingly used in various types of research. The purpose of the project is to analyze male and female oral testimonies about mass deportation from the western part of Ukraine, which include the modern territory of Lvivska, Ternopilska, Ivano-Frankivska, Volynska, Rivnenska, Khmelnytska, Chernivtsi and Zakarpattia regions. The aim of the research is to point out a distinct gender perspective. By analyzing men's and women's testimonies, it compares the ways of narrating and dealing with trauma. The testimonies contain stories of arrests, the deportation process, living in a special settlement or in a Gulag prison, as well as life after release.